Clearing the Way...
Personal: Trace
I'm in the process of changing this site so that it covers more than just business (past and present).
Business: Tracy C. Mansfield, PhD, CCC-SLP, ATP
I work with a few select AT/AAC clients in private practice, and consult with colleagues who provide those services.
I will occasionally present on assistive technology topics.
I use a folded business card because I love to play around with fancy design work (on the outside):
but I want the information to be in an accessible format as well (on the inside):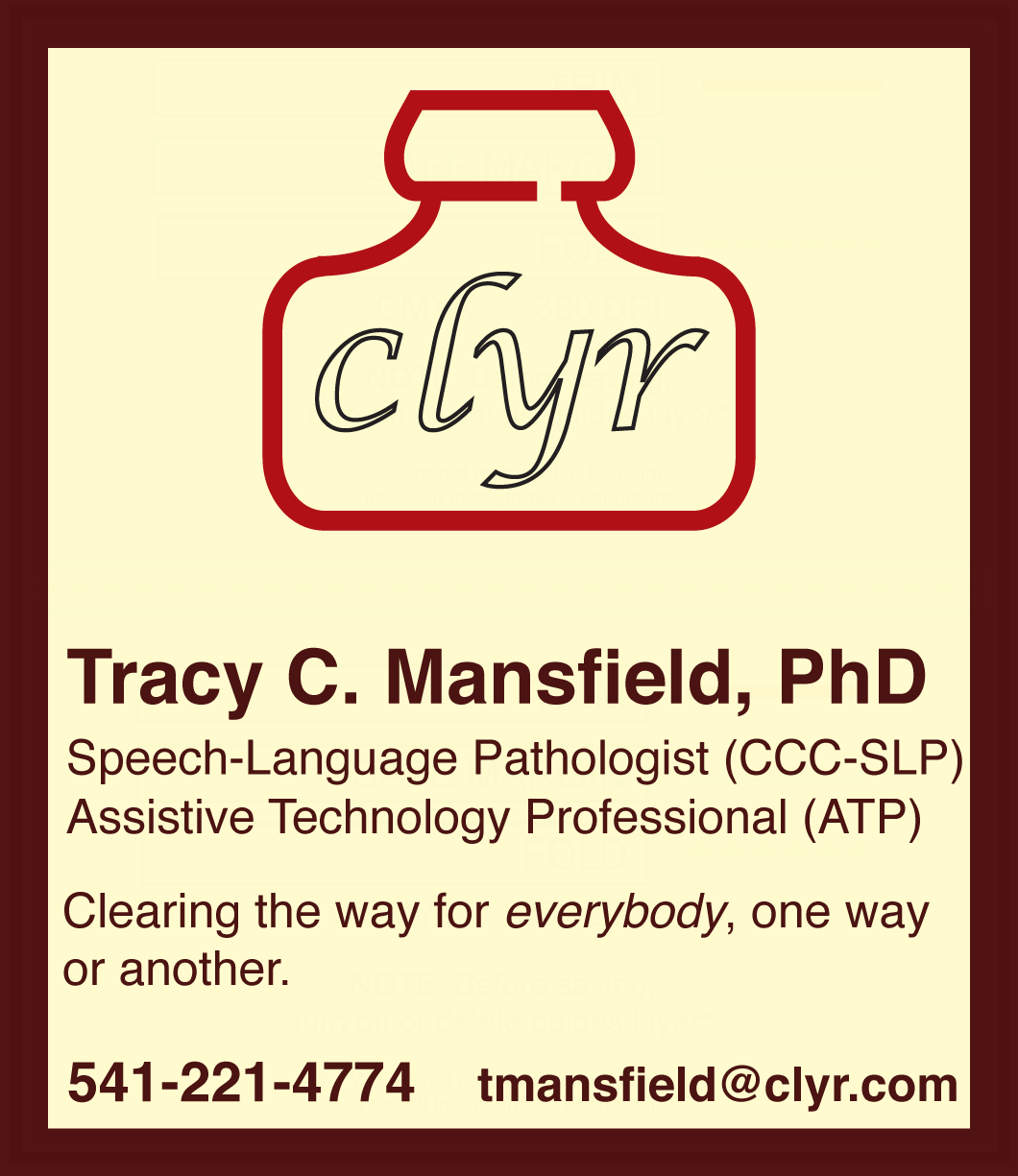 About Clyr
CLYR stands for Cognitive Linguistic Ymage Refinement, where an ymage is a portrayal of what you have in mind.
The Clyr group originally researched natural language processing with particular emphasis on ymage technology. We drew upon academic and industrial experience in cognitive science, linguistics, and systems design engineering, as well as professional certificates in technical training and systems administration. While we did get things off the ground, it was in much the same way that a penguin "flies" between the ice and the ocean (e.g., expelling air from its feathers to triple its speed underwater). This research has richly informed our individual pursuits in communication disorders, assistive technology, recreational therapy, information engineering, and so on.
Recently, we have been creating apps to help improve people's quality of access, such as, "Switch Access Training with Music," "Switch Access Training with a Camera," and "Random Countdown Timer with Switch Access." The first two are already available on the App Store.
We have also released our first OS X program, "Wordwise Reader", which displays text one word a time with adjustable fonts and color themes to accommodate a person's literacy and vision profiles. We continue to work on the "PorkRinse Random Sentence Generator with Sensible Nonsense," which adds some target variety to typing practice.
Once those are all fully supported, we will focus some attention on a couple of programs that should be of more general commercial interest... about which we shall in the meantime remain mysterious.